The Colorado Comprehensive Spine Institute (CCSI) is one of the most advanced spine treatment and surgical centers in the United States. Our institute provides total patient-centered spinal care under one roof.
We're Moving!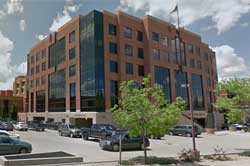 On October 1st, we will be moving to our new location at Porter Adventist Hospital.
2535 S Downing Street
Suite 180
Denver  CO  80210
Our new location will carry on our tradition of top flight care, conveniently located for Denver area spine patients.
We are at the forefront in the development of new nonoperative treatments and spine surgery technologies and techniques. The Institute has been instrumental in bringing advanced minimally invasive surgical techniques to Colorado. CCSI has become a leader in the use of spinal stimulators for advanced pain management. Dr. George Frey is a noted innovator for his development of new techniques for pedicle screw navigation and 3D imaging and printing.
Colorado Comprehensive Spine Institute was founded by Dr. Frey to fill a need for specialized spine treatment. Dr. Frey is a Board Certified Orthopedic Surgeon. Unlike regular orthopedic practices, our team is strictly specialized to the spine. This allows us to be thoroughly up-to-date and to stay abreast of the very latest techniques and advanced technologies.
Spinal pain can be debilitating, and make even getting out of bed a challenge. We provide proven and effective pain management strategies and approaches to our patients.
CCSI is 100% dedicated to specialist spinal care. We do not treat a variety of orthopedic conditions. We are not a big general orthopaedic practice. Instead, we are 100% focused on spinal care and our professional team strives to provide the very best spinal care in the Denver area. We look forward to serving your health.