George A. Frey, MD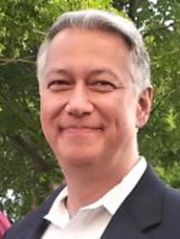 George A. Frey, MD is a Board Certified Orthopaedic Spine Surgeon and the Founder of the Colorado Comprehensive Spine Institute.
Dr. Frey focuses his medical practice on the treatment of all complex spine problems affecting the cervical, thoracic, and lumbar regions in adult and pediatric patients. Dr. Frey's is known for his extensive experience and training in complex spinal reconstruction, revision, and scoliosis surgery in children and adults. His practice reflects his strong expertise in the treatment of complex adult spine problems where deformity exists or revision surgery is necessary.
Dr. Frey received medical training at Georgetown University in Washington, DC. He completed his residency and Orthopedic Spine Surgery Fellowship at Rush-Presbyterian-St. Luke's Medical Center in Chicago, IL. Dr. Frey also completed an advanced and highly specialized Fellowship in reconstructive and traumatic spine surgery at all spinal levels to treat conditions such as scoliosis and degenerative deformities, spinal infections, trauma, and tumors.
Dr. Frey served the Front Range Medical community and has been in practice since 1993. He founded the Colorado Comprehensive Spine Institute in 2001; a multidisciplinary practice to manage all types of spinal disorders. In addition, for more than a decade, he has served as an Associate Clinical Professor at the University of Colorado, Health Sciences and was Chief of Spinal Surgery in 2005. Further, Dr. Frey is a member of the SpineUniverse.com Editorial Board.
An active leader in the development of new surgical techniques, spinal systems and implants, Dr. Frey assumes a prominent role in lecturing worldwide to help educate fellow surgical spine specialists. He holds dozens of United States and worldwide patents, not including patent submissions, in medical devices, technologies, and methods. Many have been commercialized and serve to advance spine surgery.
Dr. Frey has specific expertise in emerging motion-sparing (non-fusion) technologies and techniques used during minimally invasive spine surgery. He is the author and co-author of numerous articles about spinal and orthopedic surgery. In March 2012, Dr. Frey was selected as one of most influential and important American spine surgeons in the Beckers list of 207 Spine Surgeons & Specialists to Know.
Born in Basel, Switzerland, Dr. Frey enjoys skiing, biking, vintage car racing, restoration, and motor sports. His wife Heidi is an accomplished attorney and small business owner. Together, they enjoy their young daughter and two sons.
*Board Certification by the American Board of Orthopaedic Surgery Verify